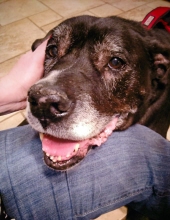 Obituary for Baxter Elchert
Baxter Elchert

On Thursday February 14th, 2019 our precious Baxter crossed the rainbow bridge. Baxter was given to his mama on Valentines Day 2007, her favorite holiday. He would become her best friend and protector for 12 years.

Baxter had so many great qualities to go along with that big slobbering face of his. He was always very vocal which gave his mama a sense of security and that deep bark will truly be missed. He was always very playful and enjoyed his kiddie pool along with playing with his brothers Maverick and Spot. But more than any of that he loved playing soccer with his soccer ball. As an American Bulldog those soccer balls never stood a chance!

He was such a loving companion but above all he was a protector of his mama and the house they shared. Much to his Mama's and Daddy's dismay he had no fear and was known to take on bees, frogs and even snakes if they got to close. Anything he felt might harm them he destroyed. It was obvious he loved them as much as they loved him.

And with that love she fulfilled her promise to always take care of him, and to protect him from future pain, the same way he always protected her. With declining health from Arthritis, it was with a heavy heart his mama made the hardest decision to lay him to rest.

The date that was ultimately chosen brings things full circle. Valentine's Day. On the day people shower others with gifts of love, on the same day 12yrs prior Baxter was one of those gifts. His mama with all the love she had to give gave him the greatest gift of all: love, dignity, compassion and free from all pain and suffering.

Baxter will be greatly missed and leaves behind his mama and daddy: Andy & Teah Elchert, fur brothers: Maverick and Spot, human grandparents: Mitchell and Kathy Edmonds, aunt and uncle: John & Jill Durick, and fur cousins in heaven: Diesel, Jasmine, Ecko, Lambeau, Prince and Harley Dog. There is some peace knowing he's now with all his fur cousins, running around with healthy legs and enjoying pain free days. Not to mention probably destroying a soccer ball once again.

Though it will be hard, we know Baxter would want his mama to love her favorite holiday again and remember it was the day she received her greatest gift…him. And instead of mourning, she would celebrate his life and love they shared for one another.

We love you with all our hearts and will miss you like no other.