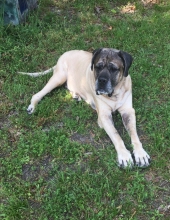 Obituary for Dude Wicker
Dude Wicker
Aka: Sir Dude of Wickerhill
October 2, 2010 – September 30, 2019

Dude was born on October 2, 2010 and joined our family on November 26, 2010. He was an instant joy, always loving and obedient. He grew from 12 lbs to 224 lbs at his heaviest. Dude loved to play with his sister Whiskey, and his ball. Tug of war with his rope became impossible due to he was so strong and loved to challenge anyone who came along to a game of tug of war – he always won! Dude was with us through many happy and sad times, and was always there to lend a hand or give a head hug. The love Dude gave to others was as big as he was, he had the biggest heart and was eager to meet everyone with a slobbery head hug. Dude's intelligence was unlike any other animal we had the pleasure to love, he knew all commands, and would answer to "show me" by walking you to what he wanted or needed. He loved riding in the truck and going on trips with his head out of the window. He loved his treats, and would occasionally steal Whiskey's if she wasn't looking. We miss you baby but we will see you again! Run and play and enjoy pain free my friend. Dude will forever be in our hearts and will be waiting at the door when we join him in Heaven.