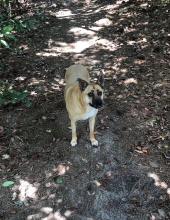 Obituary for Gidget Garner
Gidget "Chu" Garner passed away on August 1, 2019 at Whispering Pines Animal Hospital.

She was born on October 27, 2008. Six months later, at the Moore County Animal Shelter, she chose Mitchell and Gayle Garner to take her to her new home.

She loved spending time with her family. She loved when Mitch came to take her for long walks and that he made time to play with her. She would frolic with him like she was a young puppy again. She loved taking rides in the car only if she got to sit in the front seat. She was protective of her home but was also the happiest dog when she met a new friend. She would wiggle and wag her tail until you thought it was going to shake right off her body. She loved to play with the neighborhood dogs but let them know to respect her personal space. More than once she ran a possum up a tree, most likely saving Shelby's chickens. Every night before bed she paid a visit to Wade's house and was spoiled with lots of love and treats. At other times he would take her for a car ride. Most often, they would end up at McDonald's where he would get her a burger.

She is preceded in death by her feline sisters, Hessie Lou and Kitty Kay Garner.

She is survived by her human family, Mitchell and Gayle Garner, Mitch Garner, Wade Garner, Denise, Shelby and Madison Grandolfo, and many other loving family and friends.