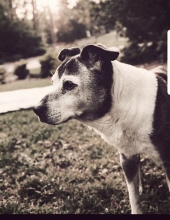 Obituary for Hobbs Kline Crabtree
Hobbs Kline Crabtree
Sept. 15, 2001- Sept. 18, 2019

"How lucky I am to have had something that makes saying goodbye so hard."

After fulfilling his mom's last request to make it to eighteen, Hobbs decided he had enough of raising puppies and wrangling his cat siblings, and began his journey to his next adventure.
Hobbs had had a zest for life, and was a well-seasoned traveler by way of car, boat, and plane. Nothing made him happier than taking a ride somewhere, no matter how short it may have been. And if that ride included swinging through the drive through of his favorite fast food joint, he had a visible smile on his face. Hobbs was also a connoisseur of cheese, lazy days in bed, and sunning himself on those perfect weather days. It was only fitting he left this world on such a beautiful day.

He was a gentle soul who had a soft spot for all small creatures (except cats), and was the epitome of a faithful companion. He never left his mom's side, and no matter how bad he felt, he was her shadow until the very end. He did his job on this Earth beautifully by raising his mom (who had no business getting a dog at 20 years old), and all of his siblings. Hobbs was ever present, ever forgiving, and ever loving. There will never been enough good things to say about him, or enough thank you's to justly acknowledge the love, joy, and laughs he brought to his parents.

Hobbs also leaves behind his dog siblings (Ducky, Moose, and Bunny), and, much to his disdain, his cat siblings (Jojo, Little Kitty, and Minnie). He had a part of raising each of them, and ensured they knew how to take care of his people before moving on. Hobbs was welcomed to the dog section of Heaven by his guinea pig brother, Phil, and his dog sibling, Sofie (who, due to her bossiness, may have been the reason he held on for so long before joining her).

Thank you for the many wonderful years together, my sweet boy. You will live in our hearts until we meet again.