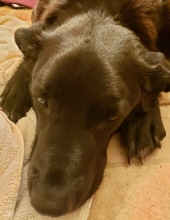 Obituary for Onyx Armstrong
Onyx Bonner Armstrong, age 12 crossed the Rainbow Bridge to meet his predeceased brother, Buggs Armstrong and sister, Mollie Armstrong on Friday, February 15, 2019. He was surrounded by his faithful owners who helped him to make it easier to cross over.

Onyx was a strong-willed, determined, loyal Black Lab who rescued his owner, Macy Armstrong on November 17th 2007. Onyx was in the custody of a local rescue, Animal Advocates of Moore County when Macy had bumped her head at the age of 4 and was considerably upset. Onyx, starting digging and trying to get out of his crate to come to her aid. When Macy's mother, asked the rescue to let him out of the crate to get to her, they advised they didn't know how he was with children. She insisted to let him out. When Onyx was let out, he began licking the tears and consoling what would be his forever friend and rescuer. Shortly after his rescue, his owners found that his sibling tested positive for Parvo and the rescue quickly notified the owners and he was taken in for a 3 day observation and did not succumb to parvo even though his sibling didn't make it. He was a fun lab who could be found napping in a warm spot with his paws crossed. Onyx will be loved and missed.

He is survived by his canine siblings: Princess Armstrong, Kamree Armstrong, Kooper Armstrong, Melodie Armstrong and Milo Armstrong as well as his humans who will cherish his memory, Macy Armstrong, Daniel and Kristen Armstrong.

The family asks that a memorial contribution be considered to Animal Advocates of Moore County, PO Box 3399, Pinehurst, NC 28374. Their hopes are that this rescue can assist with many more animals that need help just like Onyx did.

Online condolences may be made at www.goodshepherdpetcrematory.com

Services entrusted to Good Shepherd Pet Crematory, West End, NC.