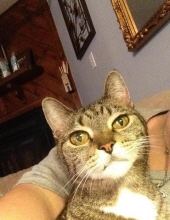 Obituary for Precious Young-Powell
Precious Young-Powell
November 29, 2000 - February 22, 2019
You were given a name that you definitely lived up to. 18 years ago you came into our lives with 5 little ones. A forever home was found. Cross over gently our Precious angel, with your wings may you regain your sight your spunk and all that slipped away. Thank you for growing old with us for we together found the best. Miss you- Wait for us.