Staff
Our dedicated staff members are here to provide support, compassion, and information to help you through your journey of grief and the celebration of your loved one's life.
---
Emily Boles
Manager, Funeral Director

Emily is a Moore County native and graduated from Union Pines High School, Sandhills Community College, Fayetteville Technical Community College, and Fayetteville State University. She also manages Good Shepherd Pet Cemetery & Crematory located in Seven Lakes, NC. Emily enjoys spending time with her rescue dogs and volunteers at local animal shelters. She is an active member of the Southern Pines Women's Rugby club and volunteers as the Director of Communications for the Southern Pines Youth Rugby Club.
---
Marsha Southers
General Manager, Funeral Director

Marsha is a native of Moore County. She attended Moore County public schools, Sandhills Community College and St. Andrews Presbyterian College. She is a member of Bethesda Presbyterian Church. Proudly served on the Pinehurst Volunteer Rescue Squad. Lifelong friends with Jamie Boles through church and school. She joined his staff at Boles as the General Manager in 1996. At that time she then attended Fayetteville Technical Community College.
---
April Yow
Certified Crematory Operator/Pet Care Specialist

April has worked with animals of all shapes and sizes for many years. She was a vet assitant for two years and has her Animal Science Diploma. She started her own grooming and dog sitting business over 10 years ago. She was born in Cameron and Graduated from Union Pines High School.
---
Glenn Boles
Certified Crematory Operator

Glenn was born and raised in Southern Pines, NC, where the funeral home industry comes second nature. Glenn was raised up in the family business and became an employee of the funeral home at the age of 16. Glenn also serves his community as a Fulltime Firefighter/EMT with the Village of Pinehurst, as well as a Volunteer Firefighter/EMT with the Village of Whispering Pines. During his free time, Glenn enjoys collecting & working on fire trucks, offshore fishing and spending time with his wife, children, family and friends.
---
Abram Rodd
Associate

Abram Rodd has been with Boles Funeral Home since October 2019. He is a veteran of the United States Army and is currently pursuing his Master of Business Administration from North Carolina State University. In his free time, Abram enjoys backpacking, traveling, and spending time with his two dachshunds, Jameson and Meanie.
---
Jamie Boles
Certified Crematory Operator


Jamie attended Moore County Public Schools in Aberdeen, is a graduate of Pinecrest High School, Southern Pines, NC and is a graduate of Sandhills Community College. In 1982, he graduated from Cincinnati College of Mortuary Science with a degree in Funeral Service. In 1984, he established Boles Funeral Homes & Crematory, Inc in Moore County.
Licensed preneed agent with NC Board of Funeral Service
Certified Crematory Operator through the Cremation Association of North America (CANA)
Past member of the North Carolina Board of Mortuary Science State Board -Member of the North Carolina Crematory Authority
Member of the N.C. Funeral Directors Association
Member of the National Funeral Directors Association
Member of the Professional Car Society
N.C. Emergency Medical Technician and member of Whispering Pines Fire and Rescue Squad
Member of Kiwanis -Member of Chamber of Commerce
Original member of Malcolm Blue Junior Historians
Member of Emmanuel Baptist Church
Elected in 2008 to North Carolina House of Representatives to represent Moore County and is currently serving.
---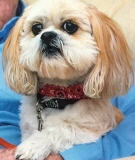 Buzz Southers
In Loving Memory

9-25-99
1-15-16

Mr. Buzz was born September 25, 1999 and started his management career shortly after. He stayed many late nights in the office with his Mom, Marsha, while enjoying a plain hamburger. His summers consisted of hanging out at his lake house with the occasional boat rides, followed by naps on the screened in porch. Buzz has been and will continue to be missed throughout the office.
---
Noodle Boles
In Loving Memory
12-30-2020

Noodles was adopted by Emily in 2008 from the Moore Humane Society. He's always excited to go to the office and run around. He enjoys kayaking, long walks, napping, car rides, milk, and ice cream.
---
Woody Boles
Office Assistant

Woody was found living in an abandoned jeep with his siblings at a very young age. He was adopted by Emily at only a few months old. He's very photogenic and enjoys photos of himself. You can find him in the sink bathing, lounging around the house, or outside bird watching.